What happens when three friends and veteran event marketers declare war on xylophones? The answer is Haute Dokimazo, a delightful disruption to the event industry that has been conquering the country and is about to take over the world, one exclusive best practice-sharing, real talk-filled party at a time.
Founders and friends Liz Lathan, Nicole Osibodu, and Tom Spano have known each other for more than ten years. Their friendships formed from seeing each other, year after year, at event industry events and conferences.
Liz brought a background in corporate events and non-profit events. She spent much of that time in high-tech, managing event teams and strategic portfolios of hospitality, trade shows, conferences, and a team of people around the globe.
Tom's added similar experience to Haute Dokimazo, having working for media agencies, in corporate events. Nicole came from the agency side. After working mostly in sales for audio video companies, she jumped ship to start her own event agency, doing sales corporate events and hospitality events.
Though their backgrounds varied in some ways, a shared experience was the impetus for Haute Dokimazo. The trio realized, once event marketers got to the senior point in their careers, the conferences all started to feel the same—same keynotes, same breakout session topics, same booths.
"All the same people having all the same discussion. It's like they cloned some party in 1983 and kept spinning it out again and again and again" (Big).
Creating a Xylophone-Free Event
While Haute Dokimazo's founders loved the camaraderie of event industry events, they hated the monotony. They knew they could offer something different to event professionals.
"We really just wanted to talk to each other, and every time we get into a good conversation, someone walks around with a xylophone telling us it's time to get back to our breakout session. We never got to talk to each other," Lathan shared.
The vision was simple: create an event that was all coffee break, where people actually could talk to each other. If they didn't want to go to a session, they could still talk, and no one would shame them for that. That was the grand idea."
No suppliers, no brands
The team discovered at most of the industry conferences, it was 80% suppliers and 20% brands. Brands felt like they had to turn their name tags around so they wouldn't be constantly sold to by suppliers.
Haute Dokimazo wanted to create something that was a little bit more balanced and eliminated the identification of "you're a supplier" or "you're a planner." They wanted people to talk to each other and solve each other's problems.
Breaking Free From Breakout Sessions
Lathan got her first taste of an unconference, while working at Dell. Dell gave the power of social media to the employees. Dell's Social Media and Communities University trained employees to do this, then ran unconferences to get employees together to share best practices. At Dell, Lathan was able to experience firsthand how well the unconference format worked for a group of people who wanted to best practice share.
Having seen the power of unconferences, Lathan wanted to try it for herself at an event. While on the board of directors for CEMA, the Corporate Event Marketing Association, Lathan pitched the board on trying the concept at one of their own events. The group decided to take a risk and devote a three-hour block to an unconference session.
CEMA put the unconference session up against traditional breakout sessions. The organization wanted people have their choice of a more structured session or something new. The unconference session earned spectacular post-event survey feedback.
Unwrapping Unconferences for the Event Industry
From the success at CEMA, Lathan knew unconferences would work well for the event industry. Lathan next went to GasPedal, which ran unconferences for social media professionals. Through that experience, she became more comfortable with how to run unconferences and put people together.
This structured-yet-unstructured way to do peer-to-peer conversation became the format for Haute Dokimazo. Though it may sound chaotic to those familiar with the typical keynote/breakout/expo event format, there is a method to the madness.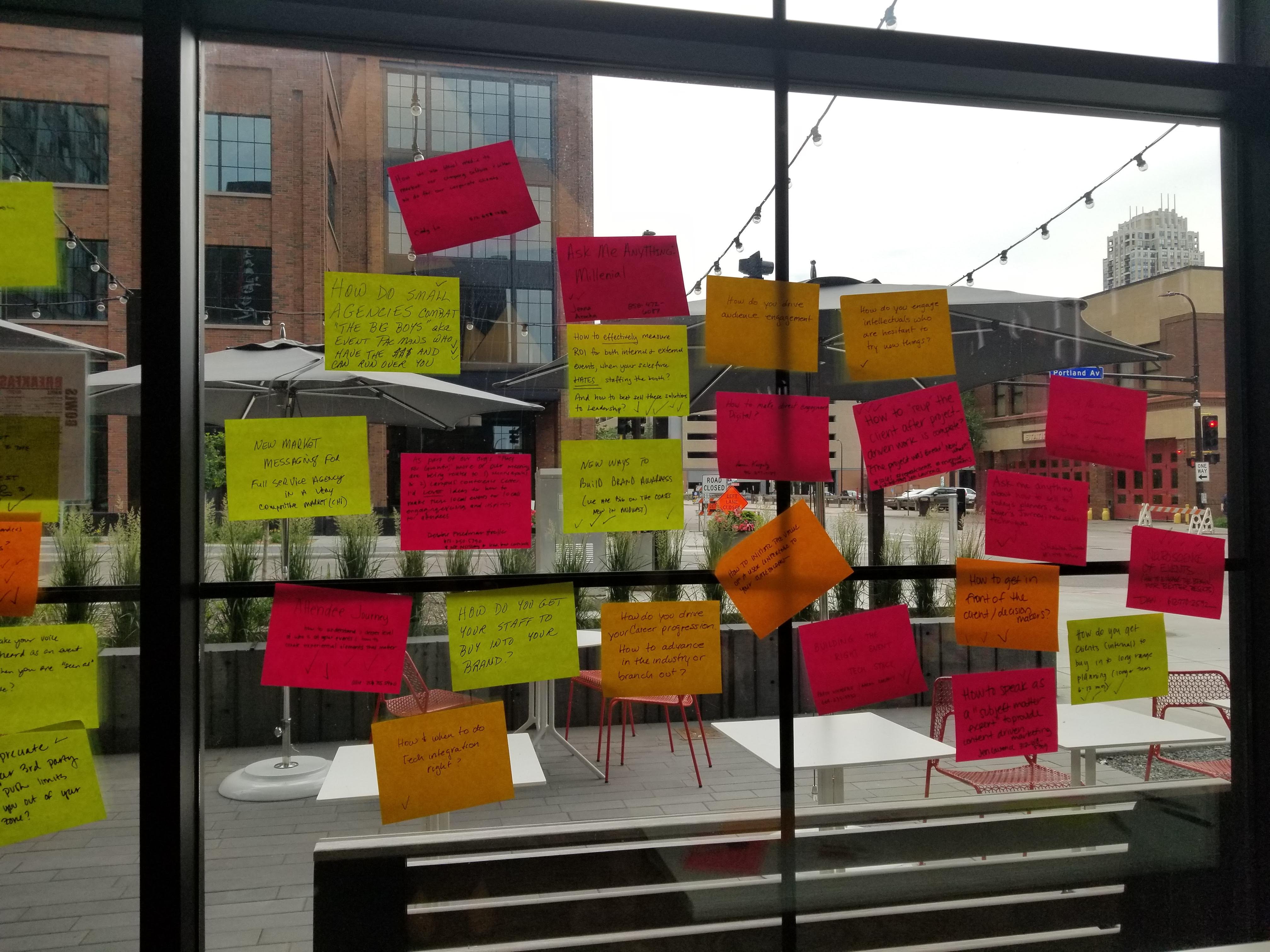 Haute Dokimazo is not an event with no agenda; it's an event with no topics. Attendees know what the structure will be, and the event opens with their direct input into both the topics that will be discussed in the sessions and those who will be facilitating those sessions.
Get people together, make introductions immediately, and share a meal family-style with those to whom you've been introduced
Identify challenges the group is currently facing or expertise they have to offer that might help others
Crowdsource session topics using giant sticky notes and Sharpies
Identify facilitators for sessions from those who have offered their expertise
Create an environment where people know they are free to fail
Get feedback using a Plus/Delta session at the end, to make people remember how awesome it is and learn what can be done better next time
Finding Event Tech's Role Among Stickies and Sharpies
While the fundamental crowdsourcing portion of Haute Dokimazo uses a low-tech approach, most attendees are struggling with high-tech challenges. Haute Dokimazo leverages creative technology "un-sponsorships" to expose attendees to event technology solutions attendees can try, talk about, and experience for themselves what problems they might solve.
There are a few simple rules. Event technology from the "un-sponsorships" at Haute Dokimazo must be:
Event tech the team wants to try and wants attendees to experience
Consistent with the Haute Dokimazo vibe
Not used for crowdsourcing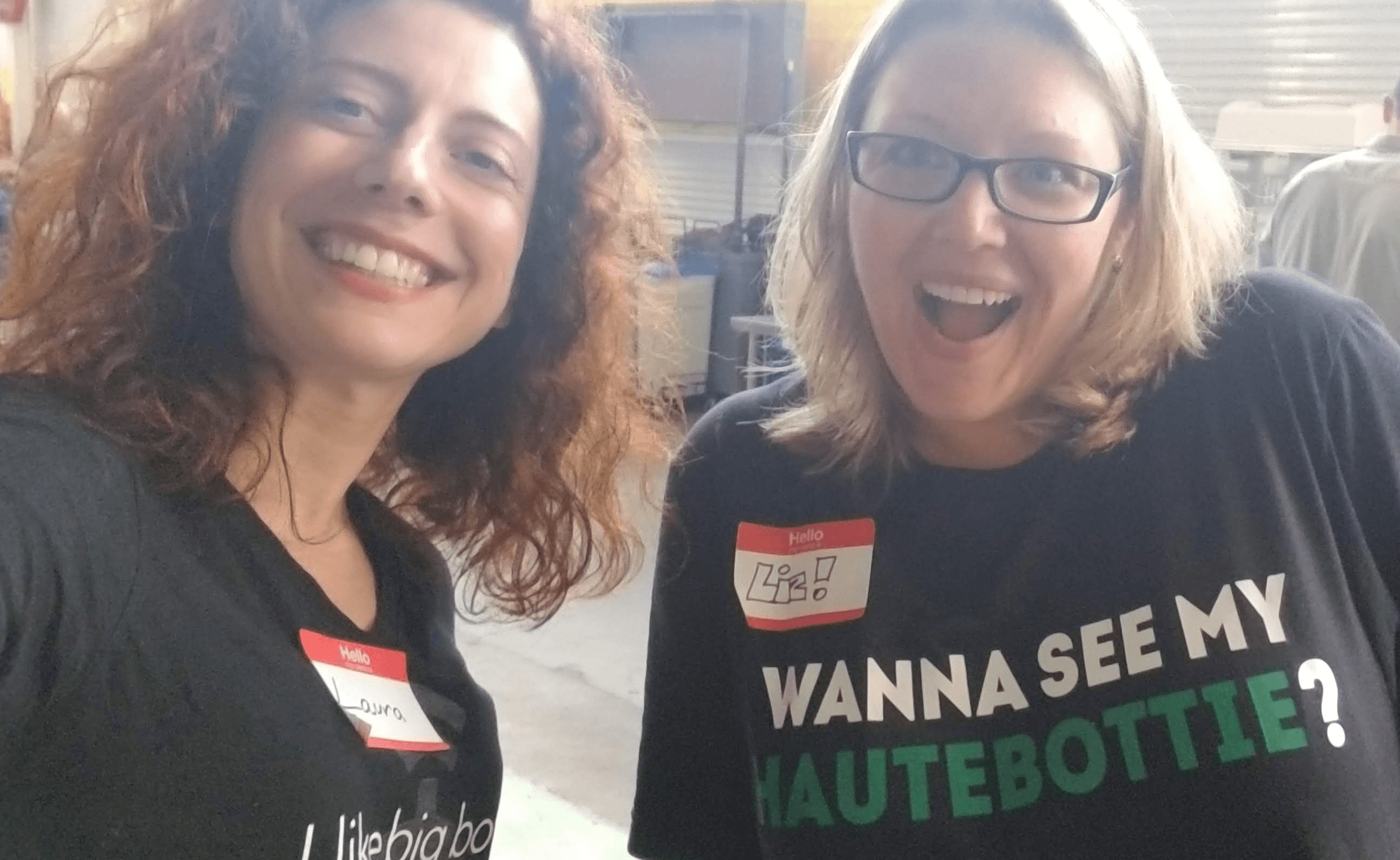 Case in point, AtlasRTX's sponsorship of this week's Haute Dokimazo: Minneapolis. HauteBottie, Haute Dokimazo's event chatbot, made its debut for Haute Dokimazo: Minneapolis. HauteBottie engaged attendees in two-way text conversations before, during, and after the event, for everything from attendance promotion to event concierge to trolley times (yes, there was a trolley!).
Stay tuned for a full report on HauteBottie's antics in Minneapolis and AtlasRTX's biggest takeaways from all of the great sessions, content, and discussion shared there. A big thank you goes out to Liz Lathan for sitting down with AtlasRTX to share the genesis and inner workings of Haute Dokimazo.